Nirimbaís Under 18 team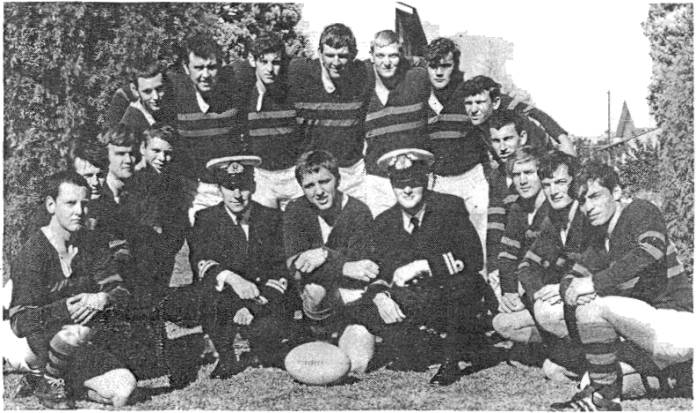 Left to right: S. P. Jeremiah, P. J Halliday, R. M. Armour, D. A. Funnell W Sutcliffe, F. J. Pradera
J.R Hogan, D. Cotton, J T Sidner, J Brandner T. J. Grube, C. L Eggleton, J. W. Knibb, P. S. Lancaster, R. L. Nicholls.
Centre row: LEUT Mead (manager), A. F Teale (captain), LEUT Mackie (coach).
Absent. R. Foyster D. Betts R. Kanowski D. Hamilton, POPTI W Bradford.
Percentages Beat Team
Finishing the season well, Nirimbaís Under 18 Rugby Union team finished equal 4th in the Sydney West Harbour competition, but was eliminated from the semi-finals on percentages.
The team started the season on a high note by beating Punchbowl Royals 10-6 and Merrylands 56-6.
It was quite evident that the strong Inter-Service combination which was moulded by Bill Bradford last year, had carried over.
Then came a period of depleted teams being fielded and NIRIMBA lost 0-12 to Homebush, 0-46 to Wentworthville and 4-14 to Seven Hills.
However, after the leave period, the team began to fire, and notched a good win over Central Eastwood 28-6. Nirimba finished equal fourth in the competition, but was eliminated from the semi-finals berth on percentages.
Three NIRIMBA players were selected to represent West Harbour Zone, these being Cannon Kanowski, Peter Halliday The team thanks both LEUT Mackie, and POPTI Bradford for the valuable advice given, and the many hours they spent in improving itís football techniques
Extract from 1974 Navy News.